Jordan Johnson

- Book an Appointment with Jordan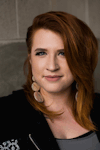 Specialties: Razor cuts, Blondes, corrective color

Jordan is our passionate perfectionist and our intuitive guide. Corrective colors and blondes are what she's all about. She gives each and every service she offers the time it truly deserves. Her precise formulation ensures that everyone that sits in her chair leaves with their dream hair color. Jordan is also our Bumble and Bumble network educator with all the tips and tricks for how to style your hair perfectly on your own using the Bumble and Bumble line. Come get your dream hair color and be welcomed by a huge smile and hug from Jordan every time.