Claire Reyenga

- Book an Appointment with Claire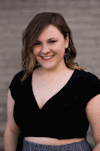 Specialties: Pixies cuts, men's cuts and Balayage

Mens cut extraordinaire & our haircutting queen. This "punny" lady bridges the line between stylist and client. She creates a relaxed and comfortable environment for each and every one of her clients. Claire is also the master of all things colorful and shaved. Her fun and creative outlook on things always gives her the best ideas for her color clients. Claire has great taste in music, television shows, beer & she's always up for an adventure. Come sit in her chair, discuss music, great hiking spots, and leave with a lovely new do.